It is obvious why many ex-pats desire to call Canada home, given that the country has adopted a national multiculturalism strategy to celebrate its diversity. However, you cannot simply pick this country and pack your bags. After all, experienced ex-pats know that information is the key to a smooth move.
Therefore, you must first find the place that will facilitate the life you've always dreamt of. So, what are the best places to live in Canada in 2022?
Since the term "best" can be somewhat subjective, we have compiled this list based on the most popular criteria for a person's future home, including economic, educational, safety, and lifestyle.
5 Best Places To Visit in Canada 2022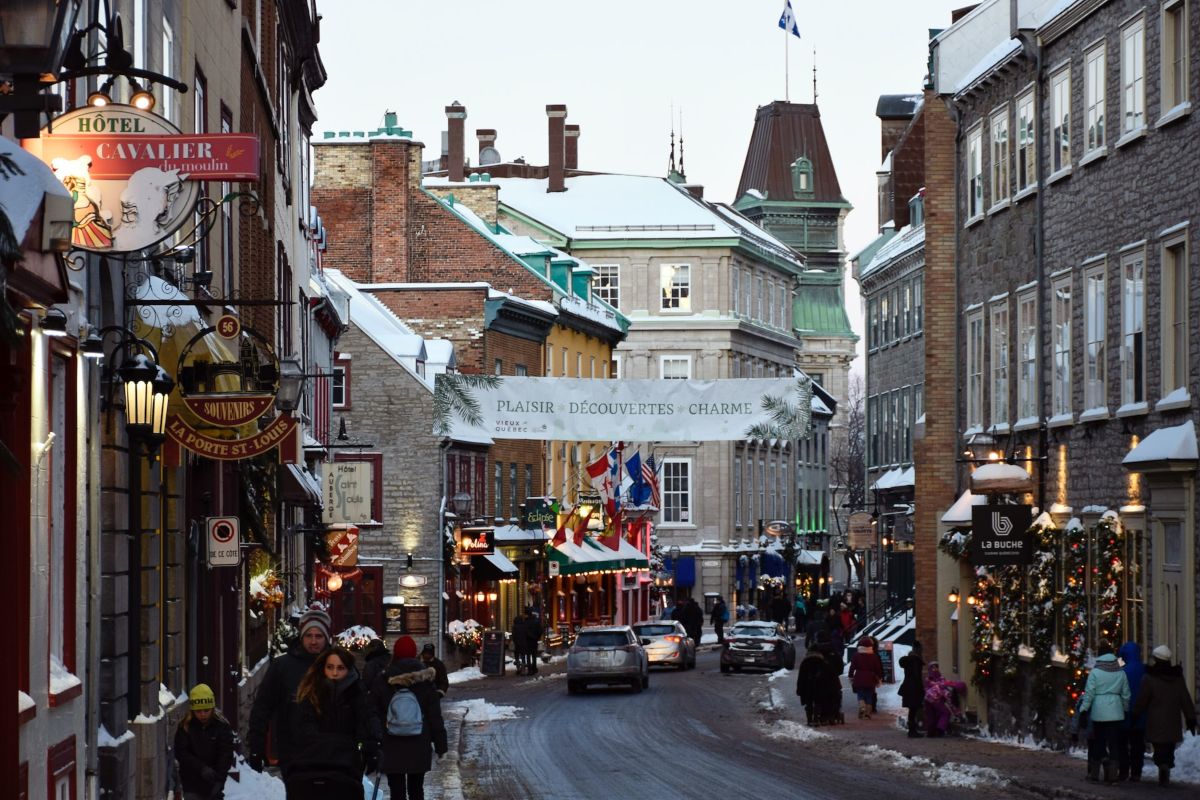 1. Quebec City
Quebec City is one of the oldest cities in North America. Officially founded in 1833 (with a long history before then), it's an incredibly gorgeous area to visit, live, and work in.
Quebec is a center of culture, art, and history with its cobblestone alleys, historical sites, stunning architecture, abundant green space, and museums. It's also chock full of things to occupy your time.
You won't have trouble finding healthcare or schools even though it is smaller and has fewer amenities than other significant cities in Canada. Furthermore, it is natural to anticipate that you will find employment quickly, given the low unemployment rate (4.40%).
And even if you work from home, you'll have a fantastic city to explore in your free time. Compared to other similar-sized cities, Quebec City generally has a lower cost of living. Additionally, rent and food prices are below average, making it a cheap destination to emigrate to.
However, one thing to remember about Quebec City is that it's strongly francophone. Therefore, you should dust off your knowledge of the French language. Lastly, the city's transportation to the outside world isn't excellent in the dead of winter since this region experiences worse winters than other parts of the country.
2. Oakville
The beautiful suburban town of Oakville is in the province of Ontario. This bustling (but incredibly safe) town, which has a population of just under 200,000, offers all the benefits of a well-established urban center while effectively retaining its quaint small-town atmosphere.
There is no shortage of things to do for those who enjoy arts, culture, and music. These include performances at the nearby Oakville Centre for the Performing Arts, trips to museums and galleries, and fantastic festivals. However, it doesn't end there! Because of Oakville's spectacular location on the shores of Lake Ontario, its inhabitants can also enjoy nature's splendor in its purest form.
All this and more make Oakville one of the best places to live in Canada in 2022. If you're wondering about your professional future, you'll be happy to know Oakville is an excellent destination for career possibilities. Moreover, its residents get additional access to the Toronto job market (only 30 minutes away) without incurring the costs of residing there.
3. Ottawa
Ottawa constantly receives high marks for quality of life and cleanliness and is regarded as one of the world's most excellent places to live. Furthermore, it is a favorite with foreigners because of its cultural diversity (it being bilingual also helps).
Ottawa is a vibrant, young city with beautiful architecture, a thriving city center, and picturesque neighborhoods. You would think this city, the location of the Canadian government, wouldn't have much to thrill residents, but you'd be mistaken. Yes, it tends to be quiet (which may suit some people), but things are happening all over the city.
You may enjoy the beautiful outdoors near the Rideau Canal, eat food at various eateries, or simply take in the beautiful sights. And once Canada Day arrives, expect the most significant celebration you have ever seen. And make sure you don't miss the extraordinary fireworks show!
Despite being higher than average, Ottawa's cost of living is still very reasonable. Eating out and buying groceries can be expensive, mainly if imported. That said, average incomes are also higher than usual. And the unemployment rate is relatively low (at 4.1%) for such a bustling city.
However, if you are just moving to Ottawa, you may need to find affordable services when it comes to the actual move. Luckily, there are many options in terms of movers, so you can easily find a team that fits your budget. With their help, you'll be one step closer to your beautiful life in this wonderful city of Ottawa.
4. Calgary
Alberta's largest city, Calgary, is located at the intersection of two rivers, the Bow and Elbow, at the base of steep mountains. This location makes it ideal for those looking for a mountain village charm with all the amenities of a larger city! And if that isn't enough, it is also considered to be the sunniest location in the entire country of Canada.
Calgary is a vibrant city that never sleeps and is deeply rooted in nature and everything surrounding it. The city's parks and outdoor areas are exceptionally well kept, notably Prince Island Park, which hosts several festivities like a music festival and a cowboy stampede.
Given that it has 180 different neighborhoods, each with its history and culture, there is a lot you can explore. And, since the area is under constant redevelopment, there is something new to discover daily! Luckily, the region ranks high in overall safety, but you should still make your home safe for you and your family.
Unfortunately, thanks to everything making Calgary a wonderful place to live, the housing market's prices have also increased. And despite its pricey real estate, Calgary has affordable daily living expenses. Fantastic job prospects and high overall safety are other factors making it belong on such a list of the best places to live in Canada in 2022.
5. Charlottetown
If you're looking for the most affordable up-and-coming place for all your everyday needs, look no further than Charlottetown. Located on Prince Edward Island, this small town is rapidly expanding, luring many new residents, and boasting big, reasonably priced redevelopment projects.
Its vibrant energy, extensive arts, cultural attractions, and rich history make it an excellent choice for most people. Additionally, since it is a cultural hub for PEI (Prince Edward Island), it hosts many festivities, concerts, and general happenings. That means you will never run out of things to do.
Charlottetown continues to have some of the cheapest real estate options in the nation while being cost-effective since you will not be sacrificing anything for all its amenities. Therefore, whether you wish to start a family or even retire, Charlottetown should be on your list of the best places to live in Canada in 2022.
Read Also:
Author: Sophia Perry